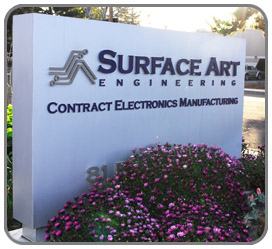 Surface Art Engineering is a leading provider of electronics manufacturing services (EMS). Founded in 1994 and based in San Jose, CA, we offer a full range of Printed Circuit Board Assembly (PCA) and mechanical assembly for prototype, pre-production and production assemblies to a broad range of companies and industries.

Our customers include start-up companies that are developing and introducing new products as well as established companies that require the collaboration, quality, and service of a domestic contract manufacturer.
Surface Art brings together the services you need to bring your products to market – Engineering/Prototype Services, New Product Introduction Services (NPI), High Mix/Low Volume (HMLV) Domestic Manufacturing, Gateway to Global Manufacturing, and Post Manufacturing Services. We are dedicated in supporting your business, providing value in services and delivering on your manufacturing needs.
We meet your needs through excellent customer service and by providing flexible solutions.

We believe product velocity is the key to meeting your market window. Our greatest contributing value is in our experience in building functional, quality products while driving cost reductions and product quality improvements.
Surface Art Engineering is committed to providing our customers service that meets or exceeds their
requirements, and in a timely manner through continuous growth in both Capacity and Services. We are committed to becoming the best service provider of printed circuit board and mechanical assembly for prototype, pre-production run, production, repairs and reworks.
Surface Art Engineering is committed to total quality management, providing product and product-related services that conform to all established requirements of our customers and our quality management system.
Through continual review and improvement, we are committed to exceeding the expectations of our
customers, achieving total customer satisfaction and providing defect-free, competitive products/solutions on- time. We have a strong, 15-plus year commitment to maintaining the highest quality standards at Surface Art Engineering.