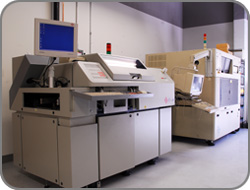 In the semiconductor industry, technology is continuously advancing at a phenomenal rate. Whether your mission is to create test systems for the computing, communications, or consumer electronic products industry, it is crucial that a high quality, fully functioning, cost-effective test system be built. Not only does Surface Art Engineering have the experience in building test systems, but also we have a highly technical engineering staff and state-of-the-art equipment that can support building complex test systems.
We have experience building test systems for the following:
· System on a Chip (SoC)
· System in a Package (SiP)
· High speed memory devices
· Flash Memory
· Multichip Packages
· Field Programmable Grid Array (FPGA)
Contact Us to find out more.