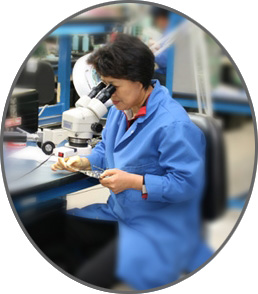 Service – Each Customer is important to us. Our relationship with you is managed by a specific Program Manager whose sole purpose is to understand your needs and products. As a champion within SAE, the Program Manager makes sure that the factory is completely INVOLVED in the task of meeting your needs. The Program Manager also SYNTHESIZIES your requirements and insures prompt responses in a coordinated and effective manner pertaining to those requirements.
Flexibility – We respond QUICKLY to changes in project specifications and delivery. We understand the stresses and demands that the marketplace imposes on our customers, and that our success is 100% dependent on the success of our customer.
Technology – We serve advanced engineering groups in some of the most premier companies in the US and Silicon Valley. Accordingly we have individuals that have the expertise and the developed processes to support "Bleeding Edge" manufacturing technologies. We can help you bring your product from the "Prototype/Model Phase" into a highly manufacturing "NPI" or "Production Phase".
Quality – Our average "Manufacturing Yield" exceeds 99% and our average "On-time Performance" exceeds 99% as well. We are always aiming to achieve 100% Yield, On-time Performance and Customer Satisfaction. To that end, we are extremely anxious to get customer feedback on what improvements we can make in order to reach and sustain those goals.
Partnerships – Our goal is to be a manufacturing partner with our Customers. We strive to be the manufacturing and operations group within our Customers' organization to bring a higher degree of success and profitability to the overall relationship. With joint goals and objectives, we can find purchasing and materials management opportunities, manufacturing and quality advantages, and project management efficiencies that lead to cost reductions and overall product stability.
We Learn and Inform - We learn from our Customers and in reciprocity, endeavor to transfer our operations and manufacturing knowledge to our partner Customer allowing both organizations to grow. We believe a well-informed Customer is a better Customer. We move relevant information that we gain or discover to our Customers as soon as it is available. We encourage our Customers to utilize our expertise and findings to address operational or design issues with their products.
We Do Our Best…. – We will try to do anything our Customers request. We believe that when the Customer has a certain need, we bring with us complete dedication to ensure the customer receives the highest standard of quality, service, and results.